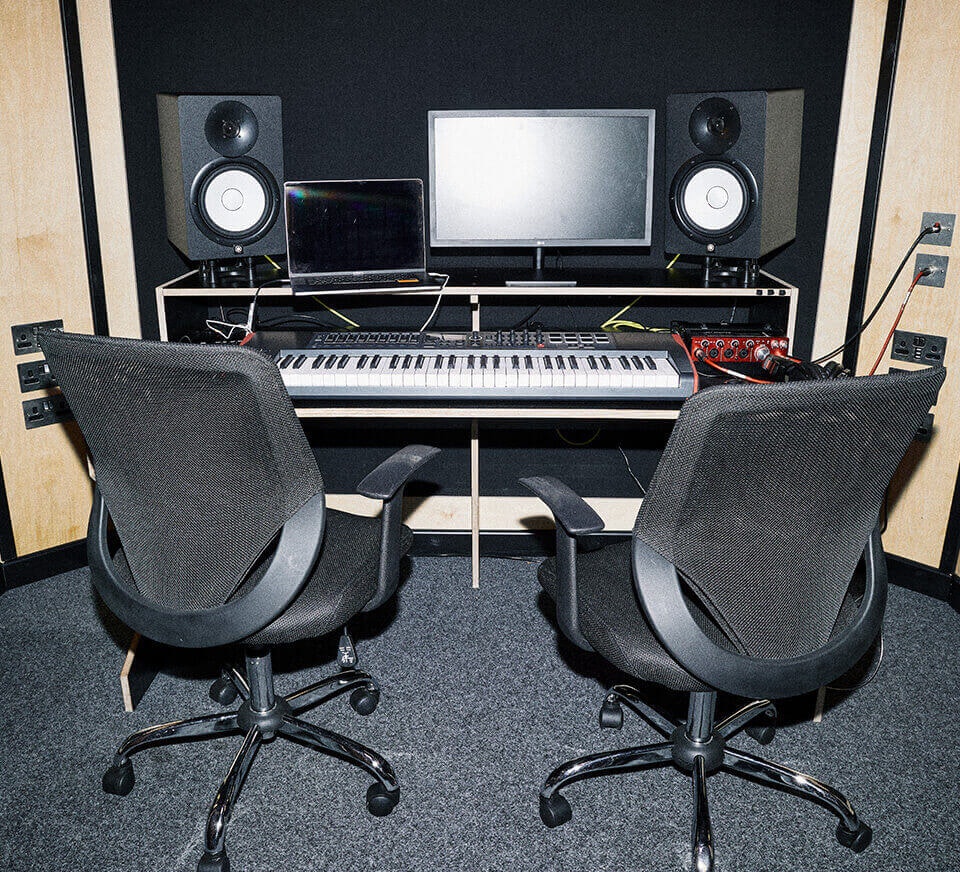 Inside your recording studios
The process of creation is different for everyone, yet the need for a quiet, productive space is universal. With self-service access, professional equipment provided free, and affordable day rates, our recording studios help you capture your creativity the moment it sparks.
Pop in for an hour, settle in for a day session, record, mix, edit — the space is yours for whatever purpose you need, and available 24/7 to work around your daily routine.
From the Community
"Great place to live stream, record or just practice for your next big gig.."
"I had a great experience at Pirate Studios in Gowanus (Brooklyn). The space was clean and ready to go as soon as my band arrived. There was a very attentive employee sitting in the lobby who asked me if I needed anything as soon as I came in. At one point we needed music stands, and he went and brought back two for me. The sound in the room was excellent and I will absolutely be back. Really excited to have another option in Gowanus and in Bushwick as well. Thx!"
"Did a voiceover session for a film. Great room and equipment. Quiet and clean."
"Great studios, I go there all the time to get time for myself to make beats in a room where lights are all out and you're enjoying the environment to make good music production. Highly recommended."
"DJs and producers - Pirate Studios is a game changer."
"I've met up with so many DJ friends at Pirate for little B2B sessions and also ended up in a bunch of impromptu sessions"
"I love Pirate and everything they do to support new artists!"
"What Pirate is doing for bands at the grassroots level, it's absolutely fantastic!"
"DJs and producers - Pirate Studios is a game changer."
"Pirate provides affordable access to the same kit they can expect in most booths around the world"
"Through Pirate I got a chance to practice privately and at my own pace."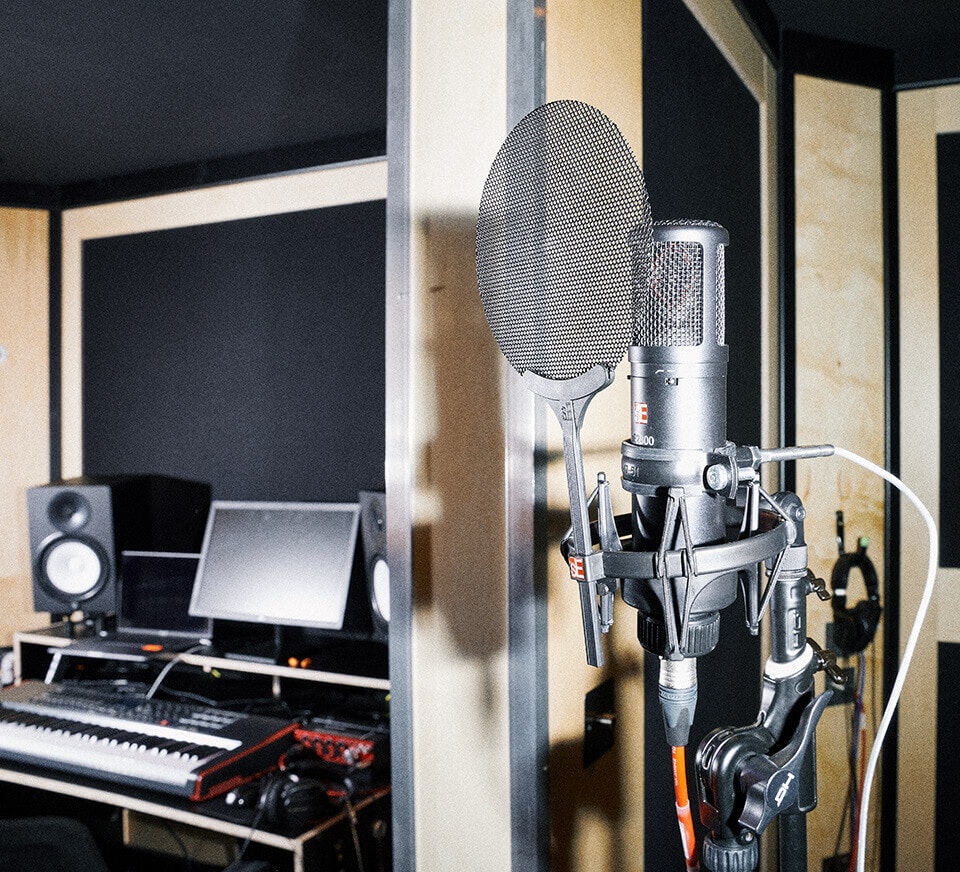 Recording Standard
Writing studios for producers equipped with an audio interface, MIDI keyboard, condenser microphone, headphones, monitors and extras.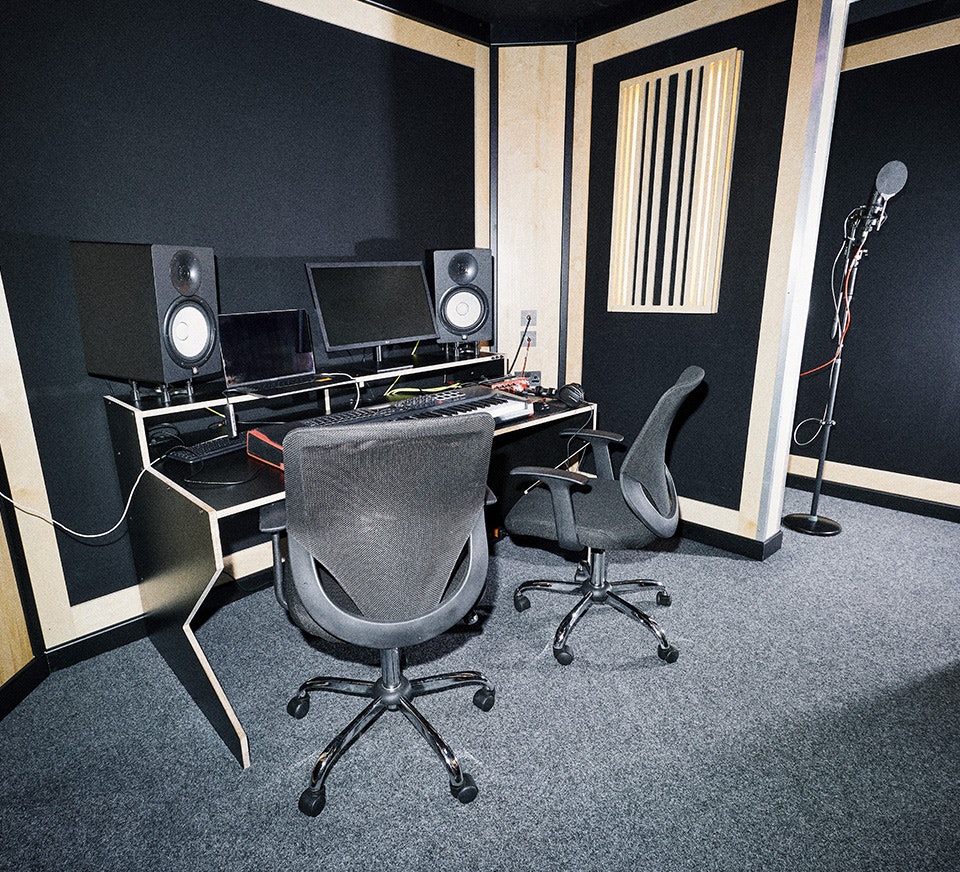 Recording Pro
This has the same equipment specs as our specialist production writing studios, but with a curtained vocal booth and some extra space for high-quality vocal capture.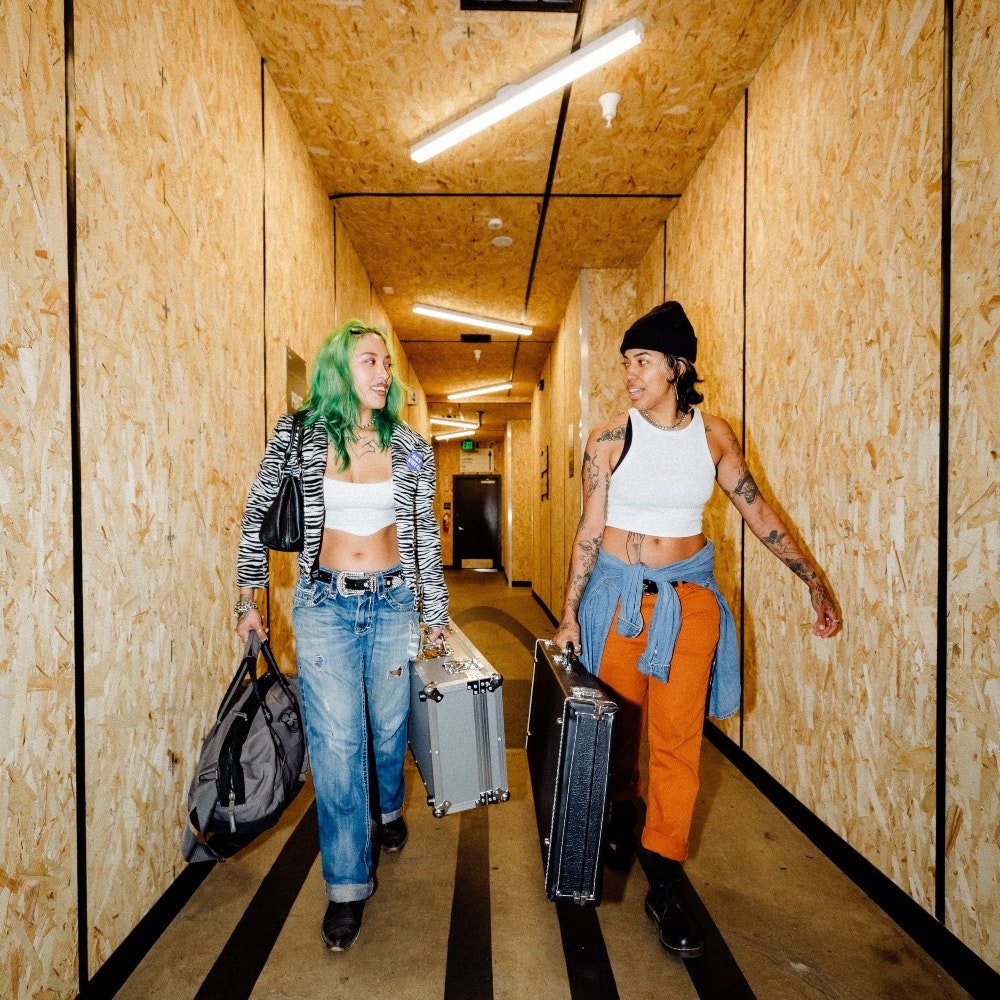 RECORD FROM OVER 30 LOCATIONS
Lay down a beat in Berlin, capture vocals in Leeds or mix down in Brooklyn. With over 30 locations worldwide, make Pirate your go-to studio, whether you're at home or on the road.
With 9 locations in the UK capital alone, our London recording studios are never far away. Elsewhere in the UK, rent rooms in most cities, from Edinburgh to Plymouth. Stateside, book music studios in Los Angeles or find our New York recording spaces on the East Coast. In Europe, we're in Berlin, Hamburg and Dublin.
PIRATE.COM is the world's largest creative studio and artist community network with close to 50 locations across the UK, DE, US and IE. Our acoustically-treated recording studios are a private environment to create, write and produce music, offering professional equipment and flexible day rates. For anyone with an interest in music production, regardless of your ethnicity, sexuality, gender or social status — this space is yours.
Frequently asked questions
Here are some answers to common questions about our recording (production) studios. Something else on your mind? Visit our support hub or reach out via Live Chat.
How much does a recording studio cost?
Recording (production) studios are the same price throughout the week. A discounted day rate is available. Check availability and pricing by visiting the booking calendar.
How many people can use a recording studio at once?
Five people maximum, including the lead booker, per session, for all recording (production) studios across the UK, EU and US.
What if something breaks or I need a spare?
Spares in every location! We carry lots of spares in our sites, just in case you need any further equipment or something has a fault. You'll also find lots of spare cables and mics in our rehearsal studios if needed.
Something missing from the room or you need an item from the Spares cupboard? Hit us up on Live Chat via the website or on WhatsApp. We will be more than happy to help.
What do I need to prepare for my session?
To make the most of your session there are a few things you'll need to bring and do.
What to bring
A laptop (essential)
A USB-C cable to connect your computer to the Focusrite interface (essential)
The external monitor connects via HDMI or VGA. If you don't have one of these ports on your computer, you'll need to bring an adapter (optional)
Downloads
You must download the Focusrite software before your session otherwise you won't be able to connect, and it'll take up valuable time

If you have any further questions our team is always happy to help.
What recording equipment is available?
Monitors: Pair of KRK V6 S4 or Yamaha HS8 or JBL 8" LSR 3 Series Mk2 Monitors
Microphone: SE Electronics SE2200II / 2300 Condensor or Aston Spirit Condensor or AKG C214 Condensor
Interface: Focusrite Scarlett 18i8/ Clarett 4pre / 2pre
Keyboard/Midi Controller: Novation Impulse 61 Keyboard/Midi Controller or M-Audio Oxygen 61
Headphones: Beyerdynamic DT770 or AKG K275 or Pioneer HDJ-X5 Headphones or similar
Other: External Screen, Keyboard & Mouse, Mic Stand, Keyboard Stand, XLR-XLR
Please remember to bring your own laptop, plus a USB C cable (and a hub if required).
Are studio visits available?
Sorry, we are unable to offer studio visits at any of our locations at this moment in time.
If you are interested in checking out a space ahead of a potential session, feel free to book a single off-peak hour. Our hourly rate is kept as low as possible for this purpose, allowing you to check out the studios in person without the pressure of booking a long session.
Alternatively, our 360° virtual tours are a great way to familiarise yourself with a typical Pirate location. Tap or click the locations below to get started:
UK
London Notting Hill (Arch 2; Arch 3)

Germany
US
Pirate not available in your region? New locations are opening across the globe throughout 2023 and beyond. Keep an eye out on our socials for updates, or pop us a message using the live chatbox on Pirate.com. Let's chat about how we can bring the next generation of creative studios to your area.