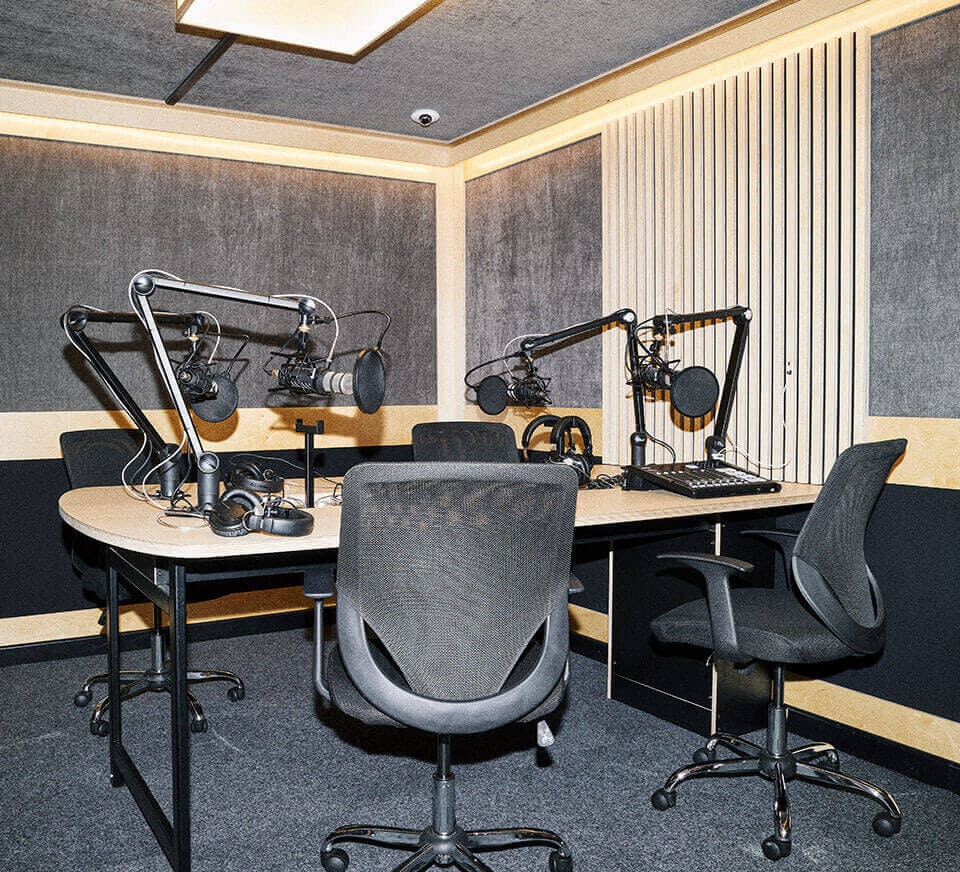 Your podcast studios
Premium equipment. Plug and play simplicity. Customisable lighting. Our podcast studios are ideal for recording your first podcast — or your fortieth. The hardest part of starting a podcast is now coming up with a great idea.
Our podcast studios are approximately 110 sq. ft or 10m2
A quiet space to record and interview
Chairs and mics for up to 4 people
Bookings available 24/7, every day of the year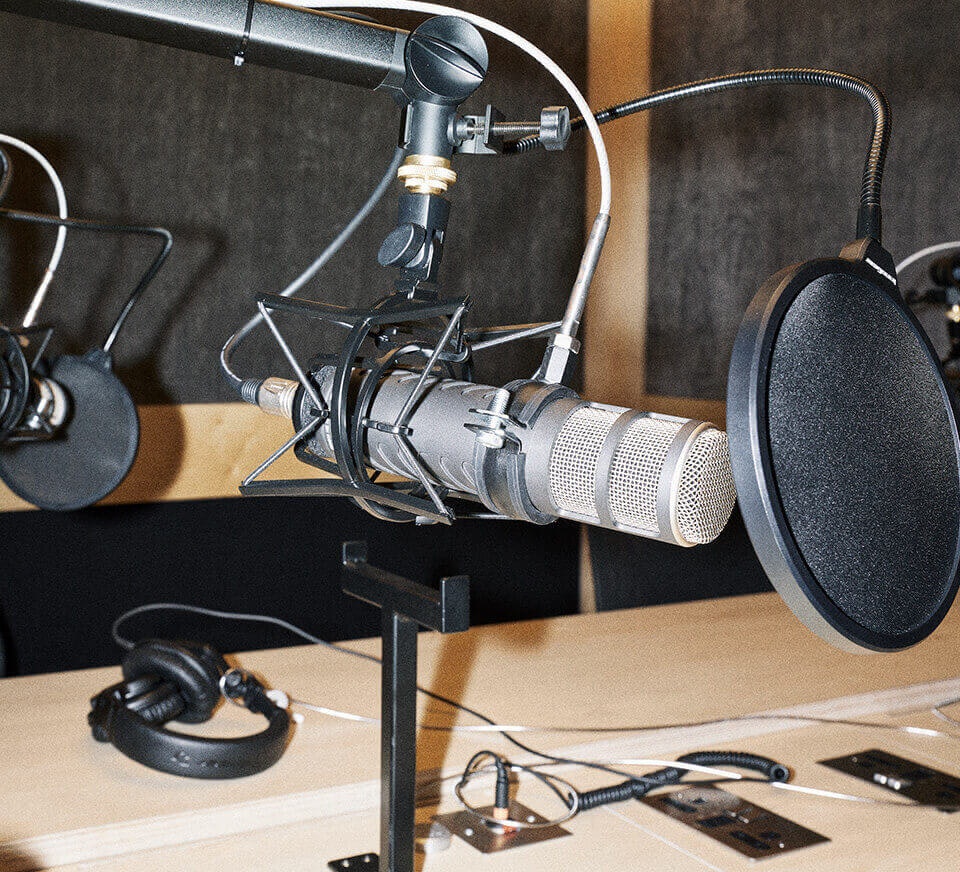 Podcast studio features
Perfect for solo sessions, dial-ins, group discussions or interviews. Equipped with a RØDECaster Pro unit for seamless recording.
Integrated Podcast Unit - RØDECaster Pro
Microphones - 4 x Rode Procaster
Headphones - 4 x KRK 6400
Seating - For up to four people
Extras - Custom lighting and temperature control
Podcast - MIDI control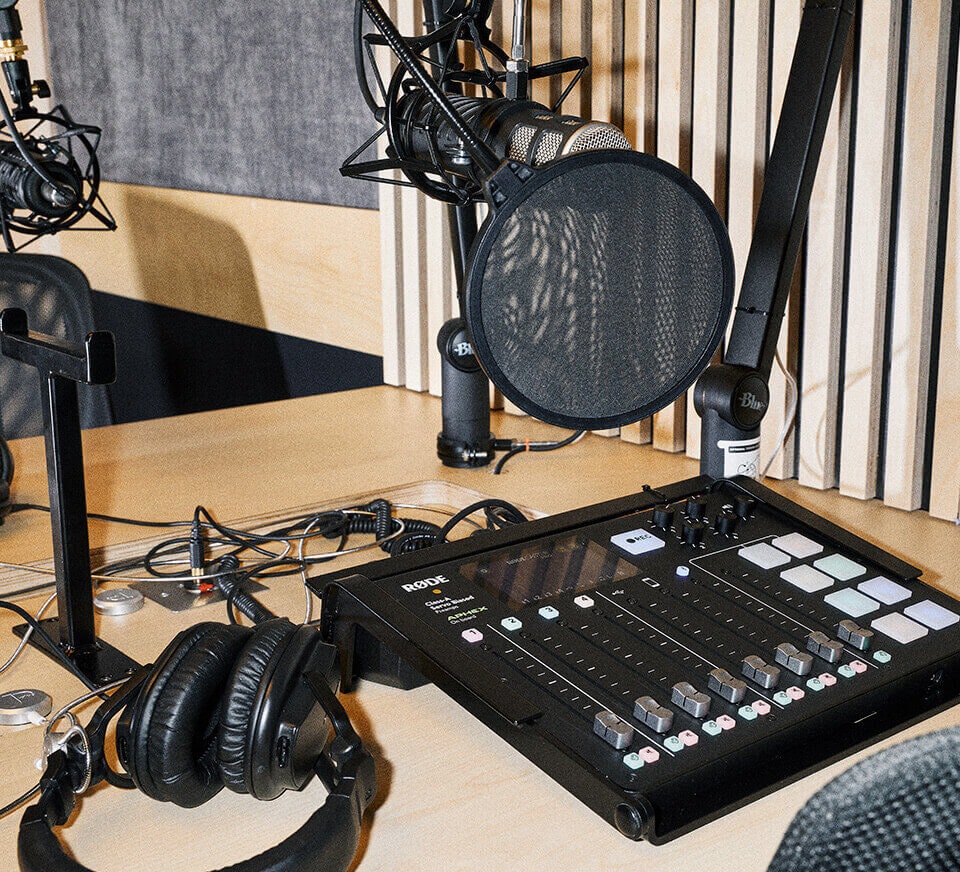 Why Pirate?
PIRATE.COM is the world's largest creative studio and artist community network with close to 50 locations across the UK, DE, US and IE. We offer 24/7 access to top-quality podcast studios at affordable, hourly rates and expert podcast tips via the Pirate blog. At any time of day — practice, record, interview or just chat with your favourite people. For anyone with an interest in podcast production, regardless of your ethnicity, sexuality, gender or social status — this space is yours.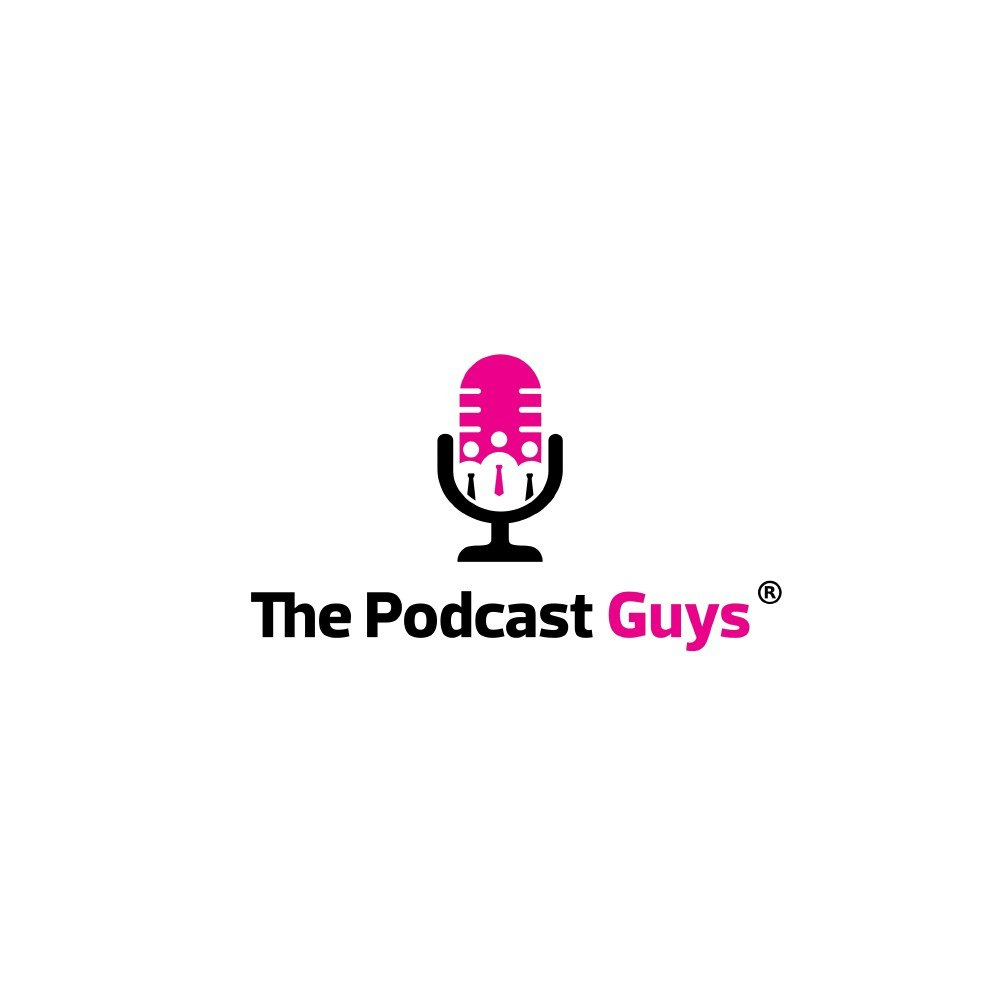 Get 20% off your first production with The Podcast Guys
Give your brand a voice with The Podcast Guys. We are partnering with the done-for-you podcast agency to offer all Pirate customers 20% off your first series production — simply visit their website and quote code PIRATE when signing up.
Who are The Podcast Guys?
The Podcast Guys help launch fully-branded business podcasts designed to help you achieve your marketing objectives. Sit back and let them take care of the entire production from research and planning, booking guests, presenting, editing, and distribution to all major podcast platforms including Apple iTunes, Spotify, Google Podcasts, Castbox, and Deezer.
Your space to create
Whether you're a beginner or a seasoned pro, our custom-designed Queens studios are the perfect place to create, write, produce, practice and mix with no distractions.
In Ridgewood there are 28 spaces ready for your next project:
Hone your mix on club-standard equipment in the DJ studios
Rehearsal studios to jam with your band or practice for the next gig
Recording studios to write and produce songs or capture vocals
Plug and play podcast studios for easy recording
Book and pay by the hour using our easy live calendar. It's time to let your creativity flow.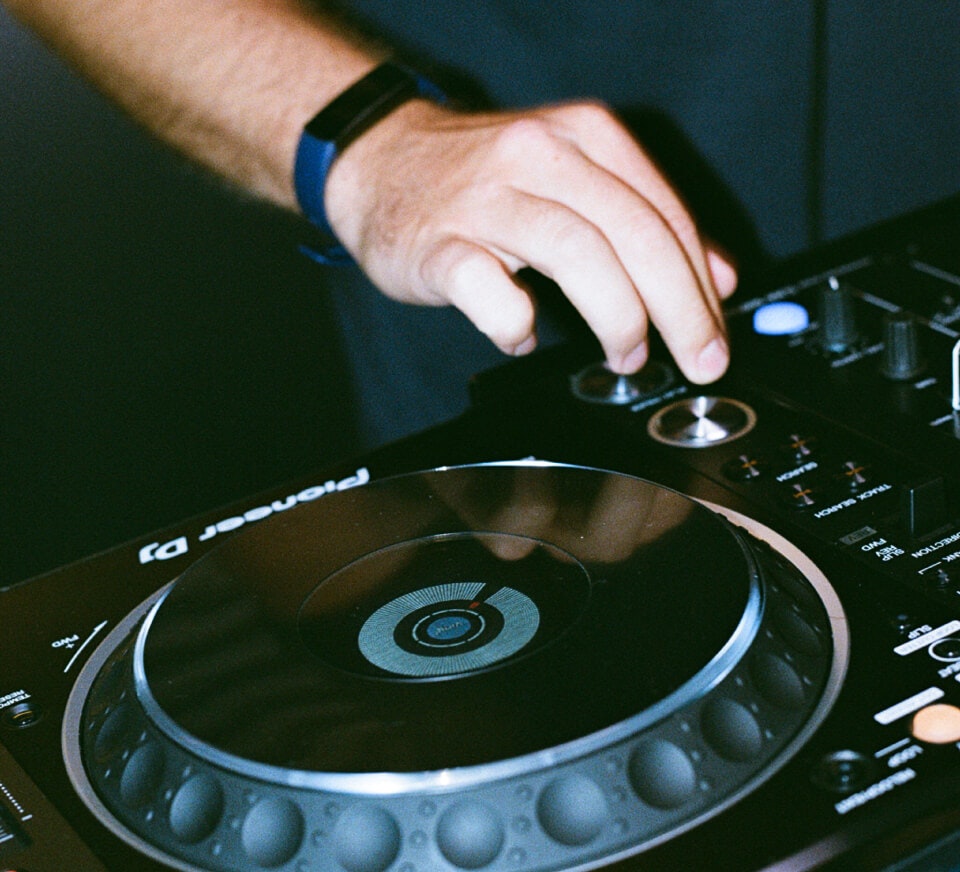 What is Pirate?
A worldwide network of DJ, production, rehearsal, podcast and dance studios, giving you round the clock access to create. Because we're open 24/7, we've made the experience entirely self-serve using our unique entry code system — but if you ever need a hand, we're here. The fastest way to get support is via Live Chat.
On-site facilities
High-speed WiFi
Vending machines
Kitchen facilities
Air-conditioned rooms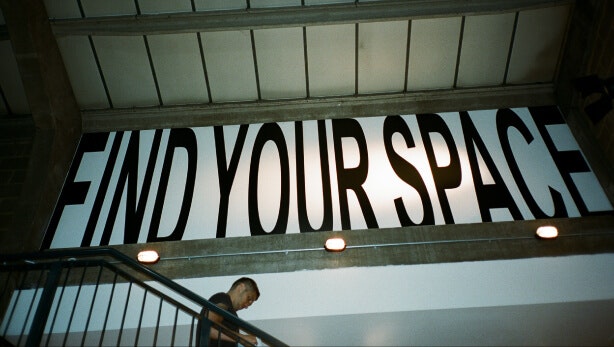 Protecting your health and safety during COVID-19
A number of measures have been put in place to ensure your studios can be enjoyed whilst respecting CDC guidelines and personal space.
This includes but is not limited to:
Contact tracing implemented across all regions
Regular sanitization sweeps
Social distancing markers throughout
Hand sanitizer and antibacterial spray available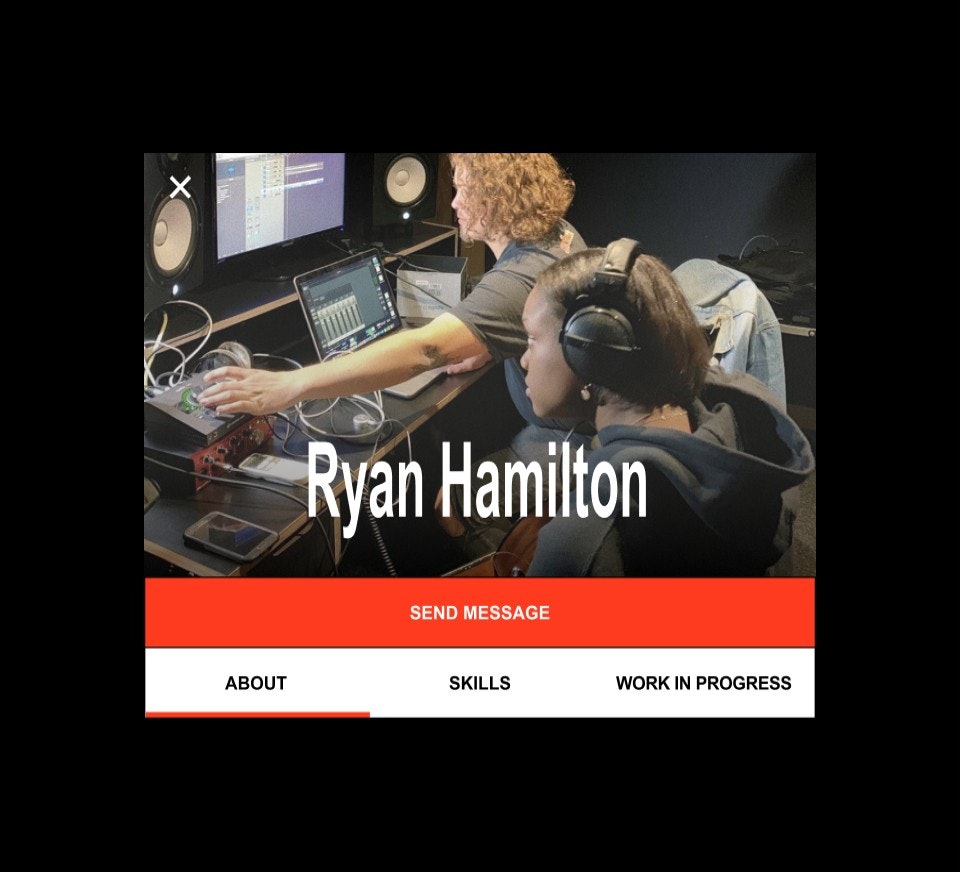 Stay creative with COMMUNITY
Set up by artists, for artists, COMMUNITY connects Pirate creatives worldwide.
Ask for advice and feedback on your music, put out a call for a collab, enter competitions, share the best-kept secret in your area… or simply connect with like-minded people. It's all possible here.
Collaborate: Seek out a collaborator to contribute to your next project, or offer your skills to someone in need.
Feedback room: Share your works in progress, receive helpful advice, and provide constructive feedback on your fellow artists' music.
Challenges: Your chance to show the world your talent. Enter our regular challenges to win gear, studio credit, professional mentoring, and much more.
Industry advice: This section will help you to understand the ins and outs of the industry. Chat about processes, marketing your brand, and anything else related to the business of creativity.
Artist opportunities: Get your music featured on Pirate.com, receive exclusive offers from Pirate partners, and plenty more.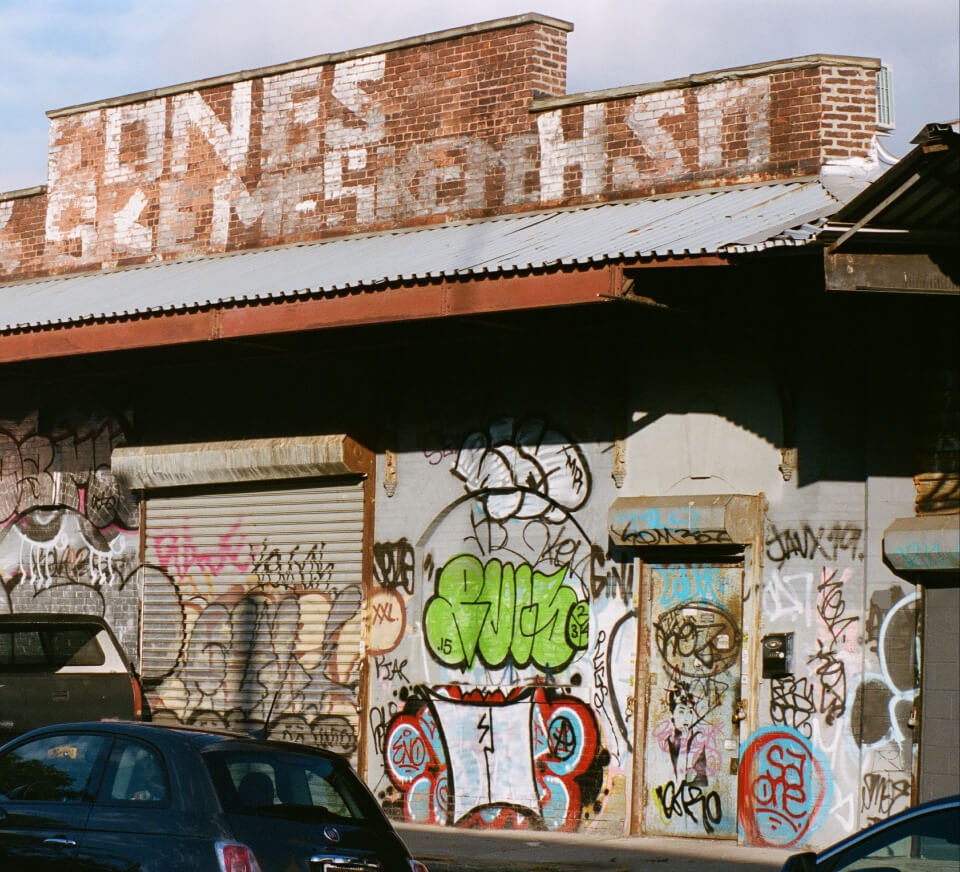 It's all happening in Queens
The home of historic districts has made a name for itself as one of the city's premier exponents of contemporary arts and culture. As well as the myriad of businesses plying their wares under the shared roof of our Box Factory home, there's plenty to do and see if you're hankering for a break from rehearsals:
Tikal Cafe is just down the street from Pirate and is prepared to fuel you with their eclectic menu of vegetarian food — and no it's not all salads. Juices, wraps, breakfast and more are waiting for you at Tikal Cafe.
Queens Brewery is an absolutely humongous hang-out haven with long picnic tables, bar food, and beverages brewed on site. Oh, they serve coffee too. Take a load off and indulge.
The Deep End: this Wyckoff Ave spot knows brunch like you know the back of your hand. Go hungry, leave hunched over.
The Muse is another like-minded creative community celebrating circus and performance art in all its weird and wonderful forms. Try one of their online classes from the comfort of your own home and see what it may inspire in your own creative endeavors.
The Ridgewood Reservoir at Highland Park is a short distance from the studios and will provide you with a peaceful, natural environment in which to collect your thoughts. Take a notebook, lean up against a tree or lay in the grass and let this beautiful park encourage you to keep creating.
Seating - For up to four people
Headphones - 4 x KRK 6400
Integrated Podcast Unit - RØDECaster Pro
Microphones - 4 x Rode Procaster
Extras - Custom lighting and temperature control
what3words location: ///ground.boxer.letter
The Ridgewood studios are located on the lower ground floor of Box Factory, 1519 Decatur St. with a WC-accessible lift.
There are plenty of public transport services available: Bus B20 via Pennsylvania Av / Decatur Street; Subway L & J via Halsey Street; and Subway L & M via Myrtle - Wyckoff Ave