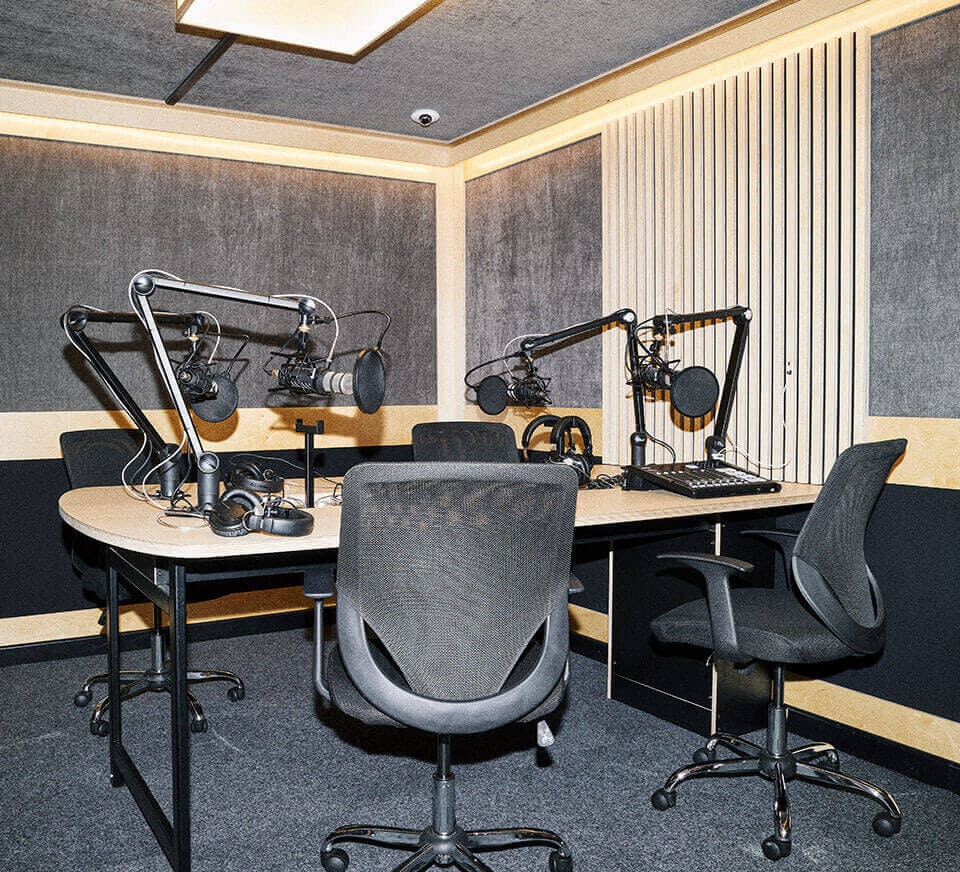 Your podcast studios
Premium equipment. Plug and play simplicity. Customisable lighting. Our podcast studios are ideal for recording your first podcast — or your fortieth. The hardest part of starting a podcast is now coming up with a great idea.
Our podcast studios are approximately 110 sq. ft or 10m2
A quiet space to record and interview
Chairs and mics for up to 4 people
Bookings available 24/7, every day of the year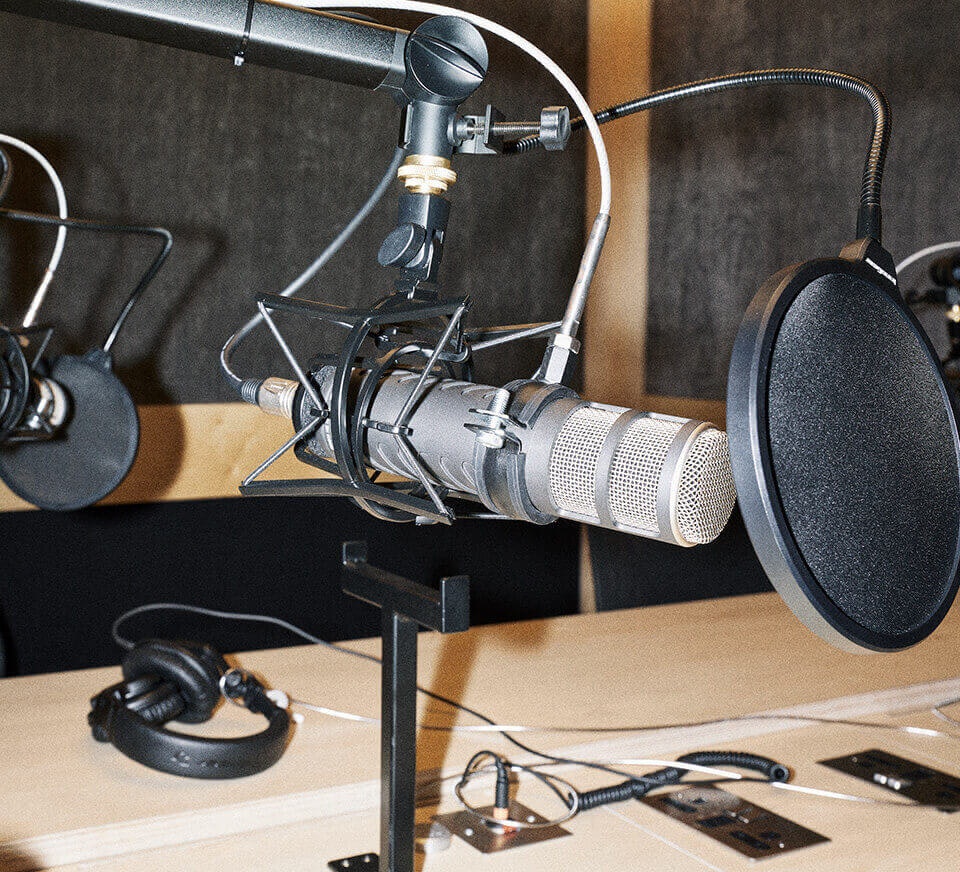 Podcast studio features
Perfect for solo sessions, dial-ins, group discussions or interviews. Equipped with a RØDECaster Pro unit for seamless recording.
Integrated Podcast Unit - RØDECaster Pro
Microphones - 4 x Rode Procaster
Headphones - 4 x KRK 6400
Seating - For up to four people
Extras - Custom lighting and temperature control
Podcast - MIDI control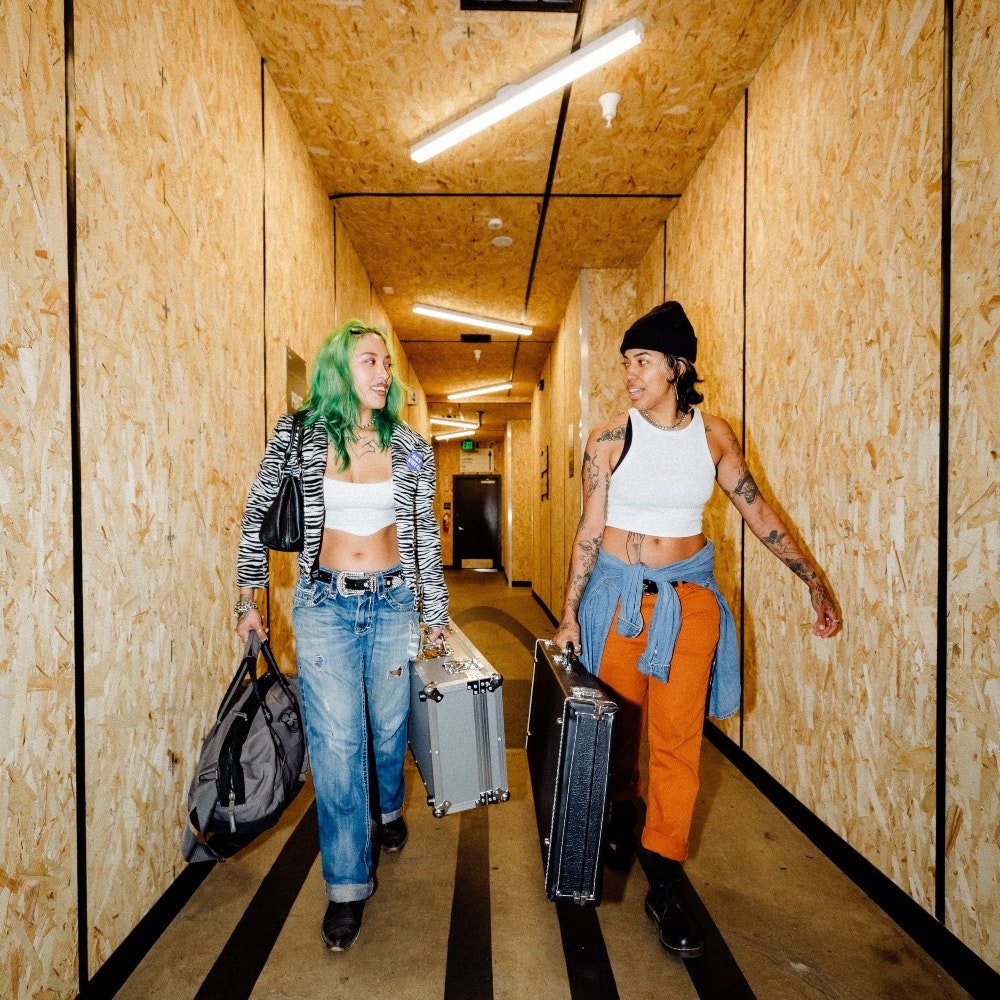 PODCAST FROM 13 LOCATIONS
Host interviews in Norwich, record an episode in Birmingham or do pick-ups in LA. With 13 locations in the UK, US and Germany, make Pirate your go-to studio for podcasting, whether you're at home or on the road.
With 5 locations in the UK capital alone, our London podcast studios are always nearby. Elsewhere in the UK, you can book podcasting studios in Birmingham and Norwich. Stateside, reserve a podcast booth in Los Angeles or New York. In Germany, we have spaces in Berlin and Hamburg.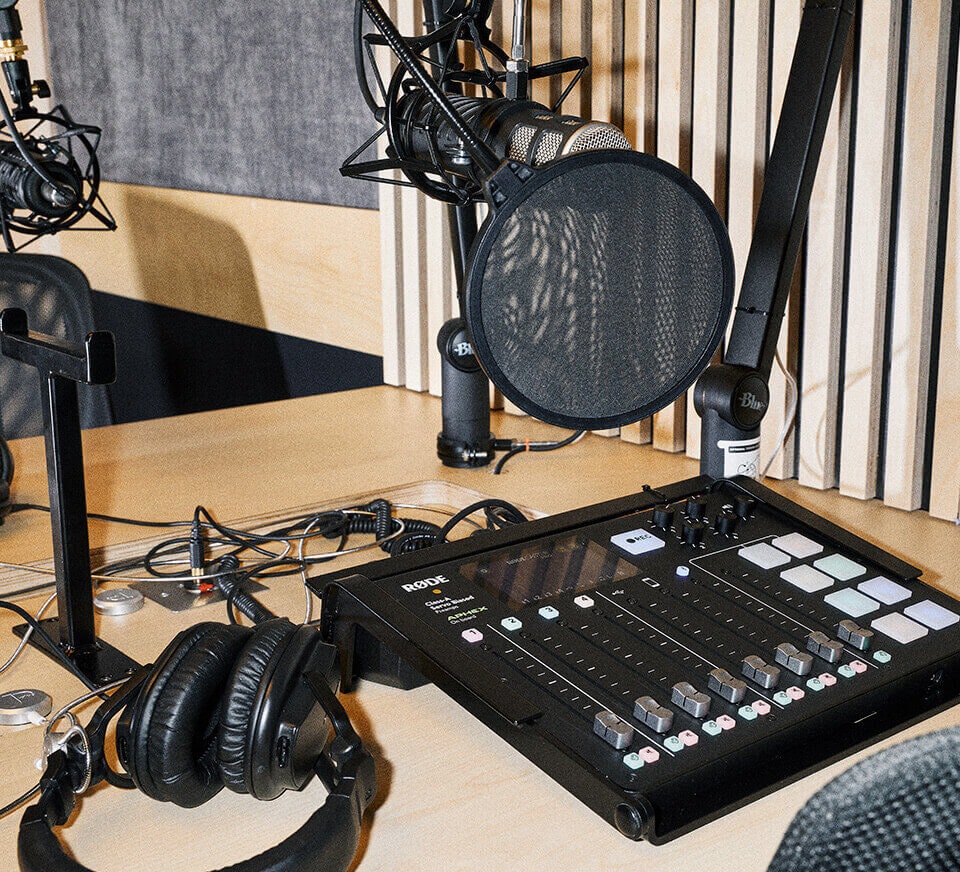 Why Pirate?
PIRATE.COM is the world's largest creative studio and artist community network with close to 50 locations across the UK, DE, US and IE. We offer 24/7 access to top-quality podcast studios at affordable, hourly rates and expert podcast tips via the Pirate blog. At any time of day — practice, record, interview or just chat with your favourite people. For anyone with an interest in podcast production, regardless of your ethnicity, sexuality, gender or social status — this space is yours.
How to set up your podcast
Frequently asked questions
Here are some answers to common questions about our podcast studios. Something else on your mind? Visit our support hub or reach out via Live Chat.
What type of podcasting equipment do you have?
We offer industry-standard equipment in all our studios — so whether you're recording a personal piece or a business podcast, you're assured of quality:
What do I need to bring to my session?
A laptop to record onto OR a microSD card to record onto (essential)
A USB-C cable — if you're recording to a laptop, you'll need one to connect to the equipment (optional)
Adapter — if your laptop doesn't have a USB-C port, bring an adaptor too (optional)
If you're using an SDcard to record your podcast, 32GB is a good size.
How much does a podcast studio cost?
Podcast studios are the same price throughout the week. A discounted rate is available for bookings over one-hour long. For the latest prices, check the booking calendar.
When are the podcast studios open?
The studios are open 24 hours a day, 365 days a year and are available for hourly and day-long bookings. Podcast whenever you like using our online booking system. Come and go as you please.
Can I stream or record my session?
Not yet but watch this space…
Will any staff be available to help me with my session?
Our studios are self-service, which allows us to keep costs down for you. If you have any problems please message us on WhatsApp, or use the FAQs, live chat or call us ASAP.

If you have any equipment issues, we can help troubleshoot — the sooner you let us know, the better. We have replacement gear on-site in case of any technical faults.
What if something breaks or I need a spare?
Spare equipment is available at every Pirate location, including instruments, cables, microphones, stands and other hardware.

If you need replacement equipment or something is missing, contact us on Live Chat via the website or WhatsApp for assistance. We will direct you to our spares cupboard quickly so that you can get on with your session.
How do I adjust the microphone arm correctly?
It is important to handle the equipment correctly and with care. The microphone acts as a counterweight to help stabilise the Rode PSA1 Studio Arm, which means that any forceful adjustments could cause the microphone to tip over and cause damage.
Only attempt to adjust the arm using the adjustable handles
Hold the arm with both hands when using the handles
Do not attempt to remove the clamp from its original position
Check out the video below for a more in-depth look at the Rode PSA1 Studio Arm.
Can I use MIDI control with the RØDECaster Pro?
Yes, we have released the next major firmware update for the RØDECaster Pro in all podcast studios, making it even more powerful for podcasting and live streaming.
Version 2.1.2 gives you access to MIDI control for syncing the RØDECaster Pro with DAWs and streaming software, new sound pad modes, nine language options, and more.
Are studio visits available?
Unfortunately, studio visits are not available. If you want to check out a space, book a single off-peak hour. Our hourly rate is kept low for this purpose. Alternatively, explore our 360° virtual tours for a detailed view.
Alternatively, our 360° virtual tours are a great way to familiarise yourself with a typical Pirate location. Tap or click the locations below to get started:
UK
London Notting Hill (Arch 2; Arch 3)

Germany
US
Pirate not available in your region? New locations are opening across the globe throughout 2023 and beyond. Keep an eye out on our socials for updates, or pop us a message using the live chatbox on Pirate.com. Let's chat about how we can bring the next generation of creative studios to your area.