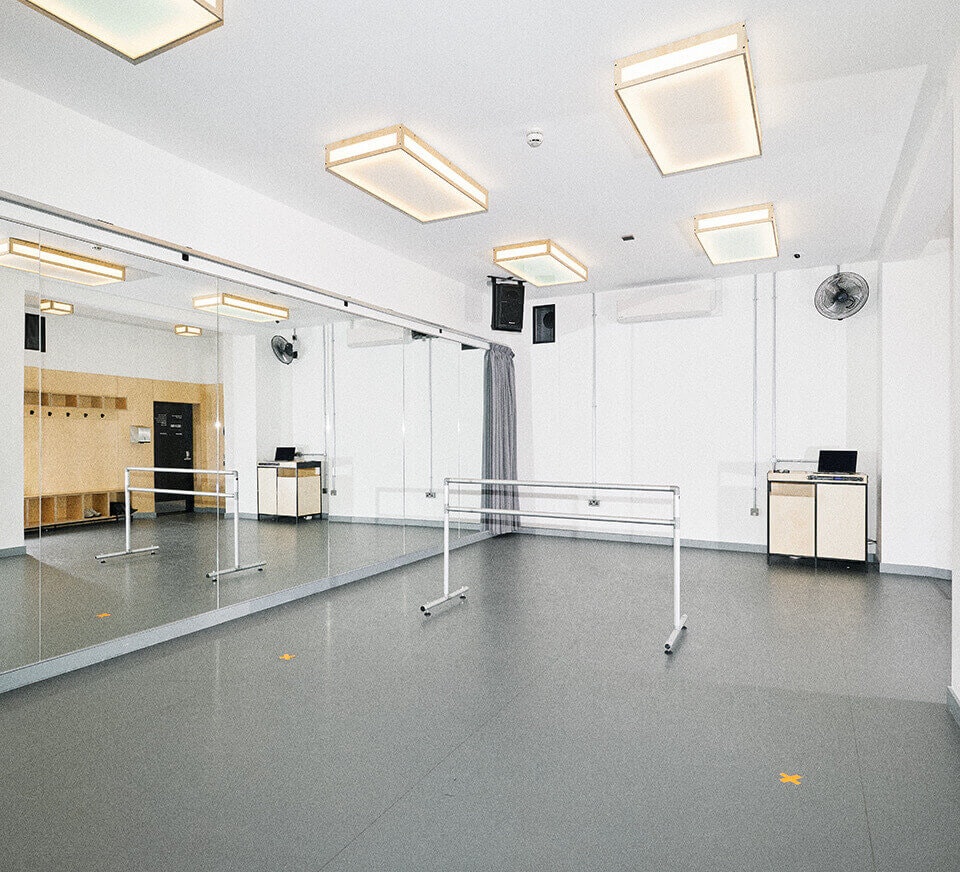 Inside your dance studios
These brand-new studios have been designed to cater to the diverse needs of dance artists and dance companies. A multipurpose space featuring industry-standard Harlequin sprung flooring, freestanding ballet barre, multicoloured mood lighting, a room-length mirror, sound system and more.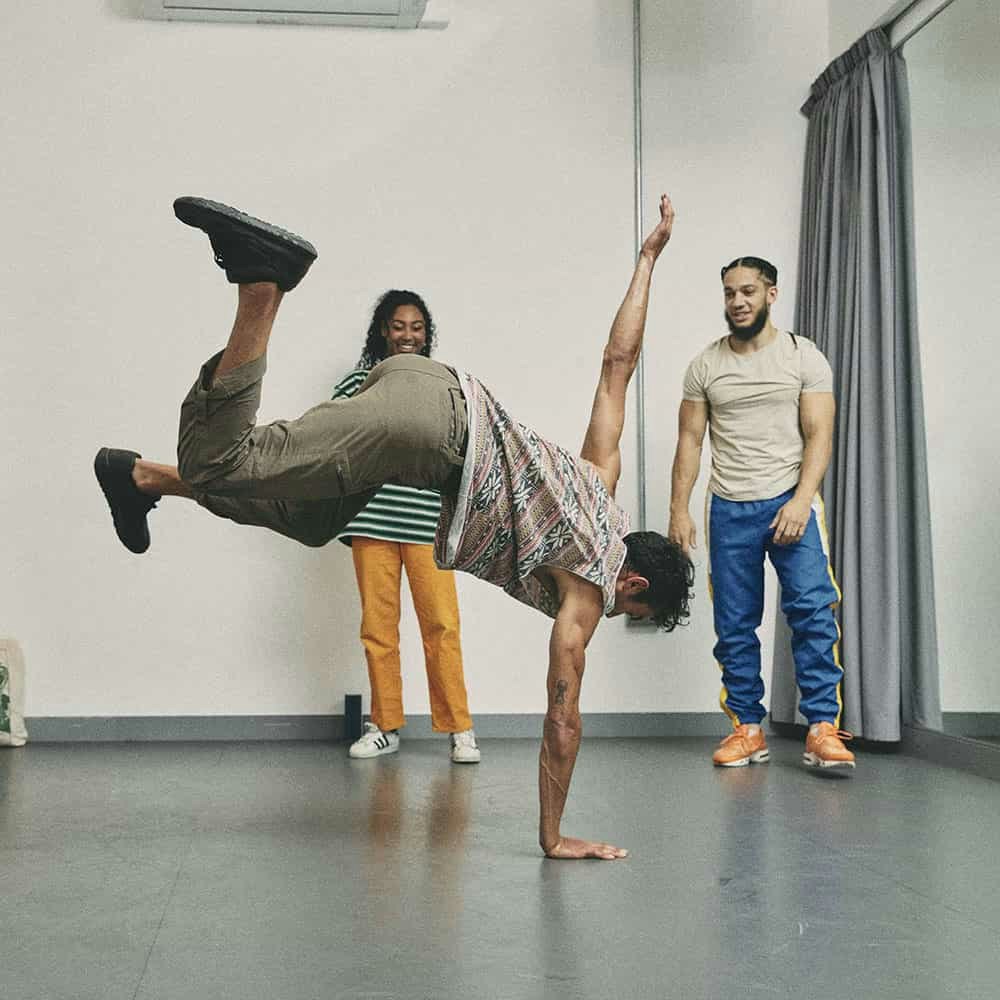 Your space and equipment
The dance studios are approximately 580 sq. ft in size — accommodating 11 people maximum, including the lead booker. You'll enjoy our custom-designed environment, including:
Harlequin Standfast and Flexity sprung flooring - Shock absorption panelling
 with area elasticity for identical end-to-end
 characteristics and better protection from injury
Harlequin - Medium freestanding ballet barre
Mirrors - Room-length mirror, made of seven 4ft x 8ft pieces
Lighting - Multicoloured mood lighting custom built by Pirate
High-quality sound system - PreSonus MicroStation BT 2.1 Monitor System. 2x Pioneer XPRS12 speakers
. Cables.
Air conditioning - and two 30' wall-mounted frames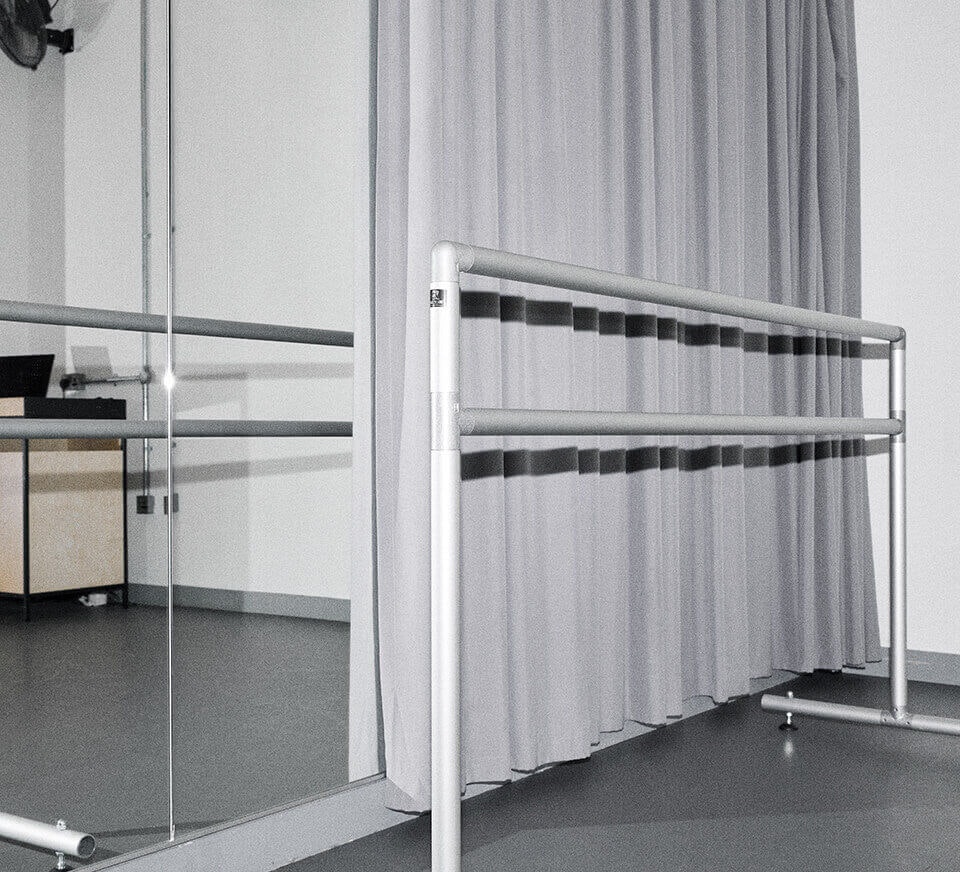 Why Pirate?
PIRATE.COM is the world's largest creative studio and artist community network with close to 50 locations across the UK, DE, US and IE. We provide professional, affordable dance spaces and performance opportunities for professionals, casual creatives, and everyone in between. Rehearse in our multipurpose dance studios with Harlequin sprung flooring, room-length mirror, customisable mood lighting and capacity for up to 11 performers. For anyone with an interest in dance and the performing arts, regardless of your ethnicity, sexuality, gender or social status — this space is yours.
Frequently asked questions
Here are some answers to common questions about our dance studios. Something else on your mind? Visit our support hub or reach out via Live Chat.
How many people are allowed in the studio?
In our dance studios, 11 people maximum including the lead booker or instructor.
What do I need to know about my dance booking?
Building and room entry codes will be emailed to the lead booker of the room
In-room personal belongings storage is available (hangers and pigeon holes)
No storage is available to leave equipment overnight
Please, no tap shoes, heels, or outdoor footwear inside the studio
Set up your Pirate.com account
It takes less than two minutes to become a member:
Visit the account creation page.
Enter your details in each field. If you have a referral code from another Pirate customer, please enter it at this point.
Select Join Pirate.com and we'll send you an SMS to confirm your mobile number. You'll need to confirm this number before you can use your account.
Confirmed? You're ready to book.
What if something breaks or I need a spare?
Spare equipment is available at every Pirate location, including instruments, cables, microphones, stands and other hardware.

If you need replacement equipment or something is missing, contact us on Live Chat via the website or WhatsApp for assistance. We will direct you to our spares cupboard quickly so that you can get on with your session.
Are studio visits available?
Unfortunately, studio visits are not available. If you want to check out a space, book a single off-peak hour. Our hourly rate is kept low for this purpose. Alternatively, explore our 360° virtual tours for a detailed view.
Alternatively, our 360° virtual tours are a great way to familiarise yourself with a typical Pirate location. Tap or click the locations below to get started:
UK
London Notting Hill (Arch 2; Arch 3)

Germany
US
Pirate not available in your region? New locations are opening across the globe throughout 2023 and beyond. Keep an eye out on our socials for updates, or pop us a message using the live chatbox on Pirate.com. Let's chat about how we can bring the next generation of creative studios to your area.